Romeo y Julieta Corona 2005 Snap Review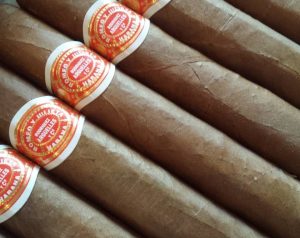 This cigar is from the vintage cigar humidor, it is a Romeo y Julieta Corona 2005.
This box has tons of floral aromas. It is quite impressive.
1st:  For a seemingly tight cigar, it is producing lots of big smoke,  almost as much as a sublime size would.
Flavor is very typical of an aged cigar:  Woodsy, slightly floral.  This cigar has loads of character and I like it.
2nd:  Great example of how older cigars usually draw very well due to the aging process.  Flavor intensified into rich tobacco.
3rd:  Ended off with more power, and more rich, intense tobacco, had few notes of roasted almonds at the finish.
Overall.  This is a quite a powerful vintage cigar considering it is a Romeo, and given that it's 11 years old.
One of the true treasures in the aged cigar humidor.