Cohiba 50th Anniversary Humidor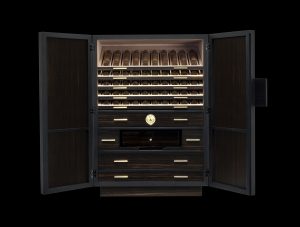 The 18th Habanos festival marked the Cohiba 50th Anniversary of the most iconic cigar brand. The brand was celebrated at the closing Gala Event on Friday March 4 at PABEXPO in Havana, CUBA.
Below are details and photos of this very special piece:
The humidor is limited to 50 pieces, with 01/50 that was auctioned at the closing Gala as part of the famous Habanos Auciton.  Each "Serie especial Cohiba 50th Anniversary humidors consists of 50 Habanos.  A 60 ring gauge x 178 mm long impressive looking cigar.
This luxurious humidor is made of different precious woods such as Macassar Ebony, sycamore and guarera cedrata cedar.  For the exterior marquetry decorating it's doors, authentic "Vuelta Abajo" ligero leaves, coated with 24K Gold leaf have been used.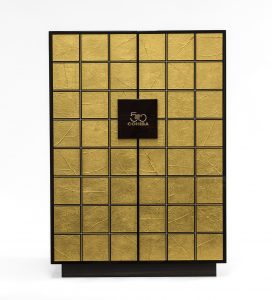 The humidor also comes with a serious of unique accessories.  A travel humidor for 5 Habanos, a handmade leather case, and an ashtray.  What is really special about this piece is that it contains a device that allows its owner to monitor the conditions of temperature and humidity from a smartphone or tablet thanks to an exclusive application that will be remotely connected with a sensor inside the humidor.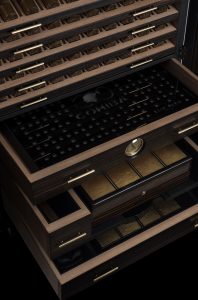 The humidor is made by Elie Blue, the exclusive French humidor maker. As for the actual cigar, there were only 2500 cigars made, with each ring individually number from 01 to 50 for each humidor.