Romeo y Julietta De Luxe EL 2013 Review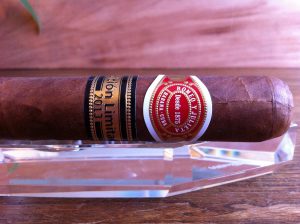 The Romeo de Luxe Edicion Limitada 2013 is a release I was surprised to see when we got the announcement. Romeo already has had so many new vitolas in the last few years (Short Churchill, Wide Churchill, Petit Churchill…) that I wondered if it would benefit from an edicion limitada like a brand like Ramon Allones would.
The De Luxe is a Capuleto (Double Robusto) size that measures 52 x 162 mm. All this great information is available at cubancigarwebsite.com and that is one of the best sources of information for Cuban cigars period.
This release has a very neat varnished 10 count box. The cigar itself looked beautiful with a shiny wrapper and great aroma.
There seems to be a soft spot in the middle of the cigar. Hopefully that won't affect the burn too much. This is quite a large cigar. It is bigger than what I usually smoke but I am looking forward to it although it doesn't have much aroma it has a shiny and oily wrapper.
After the cut, I get some sweet tobacco flavour from it. Let's start.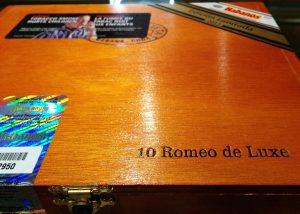 1st
Right off the start, the De Luxe is a smooth smoke and very little sweetness. It is almost meaty for a better lack of terms. The smoke is rather thin and leaves very little after taste.  On a good side, it has a perfect burn. It is like a razor. It is producing thicker smoke and more flavours now. I get vanilla through the nose and mushroom on the palate. This is all over the place. I can't say this is a usual Romeo y Julietta experience for me. I don't taste the usual wood, cedar flavours and it is missing some of the after taste.  It is a light to medium cigar at this point.
2nd
The flavour jolts have calmed down to produce a more even smoke. It is still thin, dry but at the same time quite delicate. It is still sitting at light medium in body. The blend used in this cigar is quite different from other one used in the marca but also in the other Edicion Limitada. I think they did quite a good job at differentiating this release from the regular production. Personally, I am not yet sold but I can clearly how a lot of people will enjoy this cigar. It has a lot going for it.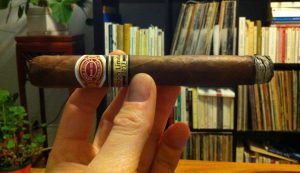 3rd
On the last third, the body as picked u to medium and it is suiting it nicely. Flavour wise, it is still linear with some vanilla, mushrooms/meat and a longer after taste. At this point, I decided to switch from my usual sparkling water and ice cube to something with alcohol content. I thought to myself, what is this cigar missing, sweetness is what immediately popped in my head. I decided to pair the last part of this cigar with bourbon.  Elijah Craig Small Batch Bourbon 12 Year Old is my poison.
This is quite nice and really helps me like this cigar. The sweetness, the honey, oak and spicy notes just push this up. At the same time, the cigar is waking up and producing interesting but undefined flavours. Well this is one of those experiences where I would leave this cigar age for another 6 months to a year and revisit it. This can become a quite good cigar especially for the Romeo y Julietta lovers out there. I know there are a lot of you (even if you don't admit it!)
7.75/10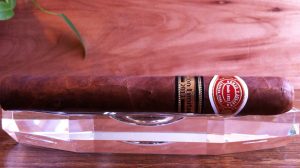 This cigar was purchased here:
http://lacasadelhabanomontreal.com
You must be 18 years old to visit this site.
Please verify your age