Romeo y Julieta Churchill Reserva Cosecha 2008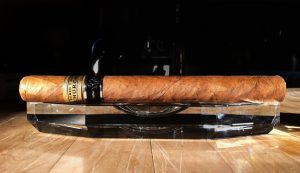 The Romeo y Julieta Reserva Cosecha 2008 is a classic Churchill made with tobacco from the 2008 harvest. It comes in lacquered box of 20 and there were 5000 made. Therefore, there are 100 000 of these cigars available, actually 99 999 after this review

I decided to punch this cigar because this is very well constructed and I would hate to have too much draw with it. I get some sweet tobacco flavors from the draw at cold.
Since it is a special smoke for me, I give it the cedar spill lighting technique and slowly toast its' foot. The smoke from the cigar mixed with the burning cedar gives me clear notes of caramel. It smells amazing. I decide to pair it with a sparkling water with some lime to keep my palate fresh and keep my taste buds clear to fully taste this stick. This is the moment when I turn off my phone and just enjoy a quiet moment with this cigar and a note book.
1st
What strikes me at first is how smooth the smoke is, it is silky smooth. There is no ammonia or sign of youth at all in this cigar. It starts slowly as a light body cigar with flavors of cedar and it is quite creamy. This are sweet and delicate flavors. The ash is solid and bright white. Again, I must say this is surprisingly smooth and it seems to be slowly increasing in body.
I really like taking my time with a cigar like this.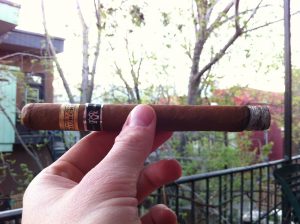 2nd
There is a slow but steady increase in body from the 1st third. The Churchill reserve is leaving my palate clean, unobstructed but with a light toasted bread aftertaste. I must say it is superb through the nose. By retro haling I get great flavors of cocoa and coffee. The draw has tightened up a bit and it is now perfect. I can now say that this is cigar is now living up to my expectation. The main flavors of the second third I would describe as creamy cedar with some undertone of caramel.
3rd
Again, I get some changes just like you would expect from a long cigar of this quality. The body is sitting at a firm medium. There is NO harshness, ammonia or anything else but pure smooth, silky and ample smoke. I get flavors of toasted bread, cedar and light nuts. Towards the very end of this cigar it changes to medium full body and giving me toasted tobacco flavors without harshness again.
This cigar took more than two hours to smoke and I had a superb time doing so. Personally, I would not stock up on these as their profile doesn't fit my personal preferences but if you enjoy the Romeo y Julieta Churchills, this is THE ONE!
An easy 9/10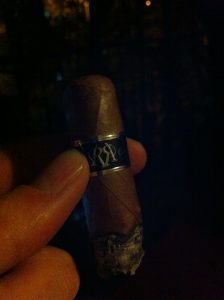 This cigar was purchased here:
http://lacasadelhabanomontreal.com