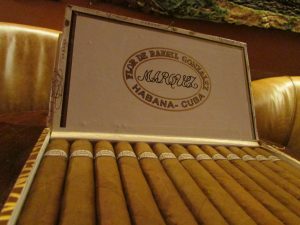 This is a new product from Hababos SA that caters to people who live in areas where smoking laws prohibit them from smoking outside. Alongside the H.Upmann Half Corona, the Perlas, a petit corona, is a short 30-35 mins smoke that is ideal for an afternoon break.
1st half:
This example has a tight draw and gives light aroma of good tobacco at cold. The wrapper is a nice Colorado colour and it is fairly oily.
Right off the bat you get a good amount of sour dough, cream and sweet flavours. The smoke is a little on the thin side and the after taste is short. It sits at medium light to medium body. The smoke emanating from this cigar smells of pure sweetness. It is quite impressive; it invades the room with its aroma.
2nd half:
Unlike larger size cigars, I am detailing this smoke in halves instead of thirds. The bottom of the Perlas still has that special sweetness in the smoke. It has moved to a medium body and the after taste has become longer. This is great because you want to have that satisfying taste left in your mouth when you are done smoking.
The flavours of sour dough, cream and sweetness are still present but they are joined by a well-fitting flavour of toasted bread.
The ash on this cigar is solid, tight and grey.
Pairing:
I would be comfortable pairing this with a sparkling water, soft drink or a drip coffee. Although espresso is a great choice for most cigars; I think it would overpower the first half of this cigar.
Food wise, I can see the Perlas let itself smoke while munching on some milk chocolate or an oatmeal treat.
All in all, it is nice sized cigar for those short moments where you want to smoke but don't have time for a full corona. If you are into fuller body cigar, I would advise to look into H.Upmann Half Coronas and Partagas Shorts instead but still a good lighter offering.
I am giving it a 6.5/10
This cigar was purchased here:
http://lacasadelhabanomontreal.com