The Montecristo Humidor 2004 is one of the rarities you can find at La Casa del Habano Montreal's vintage humidor.  It dates back to a time when Habanos used to make 100 count humidors instead of the smaller 50 count we see lately. It is quite a rare humidor as only 700 were made to commemorate the Montecristo brand in 2004. Visually, you can see it is well made and uses different wood essences. An interesting detail is the differences between the applied logo on the humidor and the logo we find on most boxes. Rather than using the common text on the sides of the fleur the lys, Monte Cristo Habana, the artisans preffered to leave it blank. It adds to the uniqueness of the piece.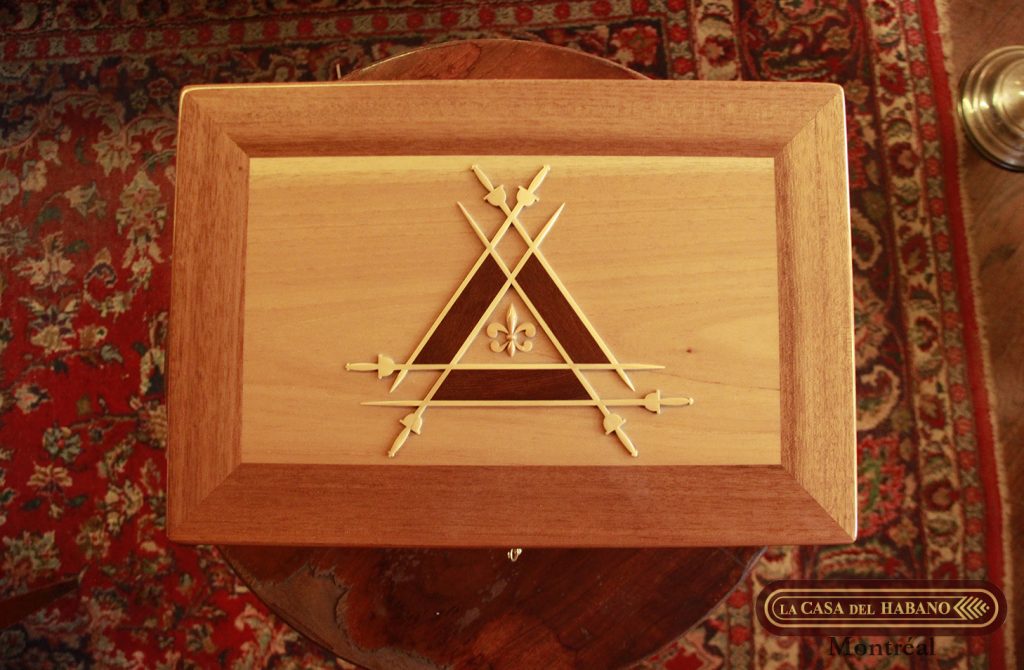 The details of the wood work on the humidor
What is inside?
Both cigars in this humidor are some of the biggest in the Habanos portfolio. One of them is the regular production Montecristo A (Gran Corona 47 x 235). It is arguably one of the longest and most impressive cigar being rolled in Havana these days. You can easily take up to 3 hours to smoke one. It might seem long but arm yourself with patience and you will have a unique smoking experience. The second cigar is a rare vitola named the Salomones II (Salomón II 57 x 174). And it has a legend of its own described below.
The Legend of the Salomones II
It is said that this vitola was originally commissioned by Mr. Christoph Wolters of to be part of a special Partagas humidor in 1996. According to the story he told here, he originally wanted the cigars to be Partagas Salomones but he was having trouble getting the clearance to produce this vitola for a reason he couldn't figure out. While his project advanced, he discovered that it was because an upcoming brand release, Cuaba, would use these vitolas in their portfolio. Habanos didn't want to ruin their launch and surprise effect. During a brainstorming session with the rollers about what to do with all these Salomones, they decided to cut the tip of the Salomones to give it a half figurado and half parejo foot. They named it Salomones II. I don't know about you but the idea of smoking a cigar with a legend attached to it really adds to the experience.
Why is the Montecristo Humidor 2004 rare?
Besides the limited amount of humidors made, the fact that it contains 50 rarely rolled cigar and 50 Montecristo A, makes this pretty exceptional piece. They have been trading at auctions for a few years and they have absorbed quite a bit of value already but I believe there is still room for growth. If I was in buying mode for a collection and the price asked for this was good, I would pick one up to sit on for a few years.
Montecristo Humidor 2004
Commemorative humidor
700 made
50 Montecristo A (Gran Corona 47 x 235 mm)
50 Salomones II (Salomón II 57 x 174 mm)
The band was in use from 2003-2006