Montecristo Double Edmundo review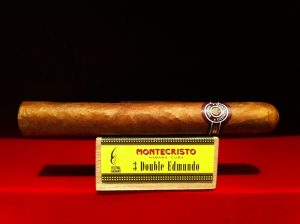 The Montecristo Double Edmundo was introduced at the 2013 Habanos Festival in Havana alongside the Montecristo Petit Piramide. Both of these new releases sport the new Montecristo bands with the gold fleur de Lys and writings. I personally like the new band and it was about time the injected some new life in this classic brand label. The Double Edmundo is a Dobles vitola weighting in at 50 mm ring gauge by 155 mm in length.
Here is a closer look at the new bands:
Now to the physical characteristics of this particular example; it has some one of the smoothest wrapper I have seen on a regular production cigar beside the Cohiba Behike line.  The foot is full and the body seems to be evenly filled. I have decided to punch this cigar because I hate having too much draw on a cigar and I find that punches give me more control on it especially for cigars with a 50+ ring gauge. Since my punch was too small, I decided to do three parallel punches to make a bigger cut, almost like a cat eye cut as you can see on the previous picture.
It is spark'o'clock for this cigars.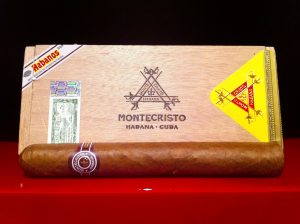 1st third:
This starts off quietly and shows it is sitting at medium body. I must say that this vitola feels good in hand. It is a longer cigar without an extreme ring gauge. So far, I like this more than the other vitolas of the family when smoked fresh. There are flavors of wood, good tobacco, some peanuts and an overall creamy taste that I quite enjoy. When smoke a new cigar, I prefer to take super slow and longer puffs to make sure it doesn't overheat and this cigar is revealing some cherry under notes that creeping in and it is nice.
This has a lot of flavors.
2nd third
The second part of the Double Edmundo seems to be calming down in flavors. It is giving me less than the first third although still enjoyable. I mostly get some wood and creaminess. It is producing a good amount of smoke and the after finish is short but very nice. It still sits at medium body and the burn has been perfect so far. Let's hope the final third lights me up (pun intended)
3rd third:
I think this cigar read the previous part of the review and it has improved from the last third. I can now taste the family roots of this Montecristo. I can taste the talked about Cuban "Twang"; there is some cream and wood. This is sweeter than when it started. It seems to be building up for a finale.
I am quite enjoying this cigar but to my disappointment, the big finale turned sour. The back is tightening up, bitter notes are coming out and this is just like a wet firecracker. It is not happening anymore.
Overall, that was a good cigar and I believe with a year or two it will be ready to be smoked. In my opinion, it fills a nice part of the Montecristo line up and could age well for about 10-15 years. It isn't something I would lay down for ages but it will be something reliable for the years to come.
 7/10
Please, take the time to like our Facebook page:
http://www.facebook.com/lacasadelhabanomontreal
follow us on twitter:
http://twitter.com/laCasaMontreal
and take a look at our website:
http://lacasadelhabanomontreal.com
You must be 18 years old to visit this site.
Please verify your age