Hoyo de Monterrey Maravilla Review
Cigar collectors are passionate people just like wine collectors or watch collectors so when a rare and unusual items is released, it attracts a lot of attention.  As you can imagine when you get a chance to sample one of those, it is a special event. Before we get to the tasting here is some interesting facts about it this Hoyo de Monterrey Maravilla review:
There are 350 of these humidors made and they contain 50 cigars each. That is a total of 17,500 cigars. That is quite a limited release compared to gran reserve that are of about 45,000 cigars usually. This cigar was taken from the humidor #201/350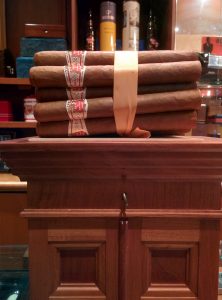 The 2011 Réplica de Humidor Antiguo from Hoyo de Monterrey is a Maravilla No.1 (55 x 182) called the Monterrey. This size hasn't rolled since the 70s. Introduced in 2006, the Replica Antique Humidor series are quality replicas of famous humidors. These are produced in the Humidores Habana workshop in Havana by Mr. Aguilera. We have some footage of their process in the Ramon Allones Imperiales video we posted a little while back.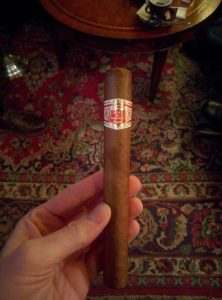 Construction:
The construction on the Hoyo de Monterrey Maravilla is impeccable. The have silky smooth wrappers and they are glowing with oils. They feel good and even to the finger.
Aromas at cold:
After giving it a straight I am rewarded with a perfect draw. Not too tight, not too loose. Often I find large ring gauge cigars are too loose but this is just perfect. I get aromas of older clean tobacco. The taste is crisp.
1st :
I had no idea what to expect from this cigar but my first impression was "wow this is creamy!" It starts off very smoothly. It is at light medium body and produces very thick and lush smoke. There isn't too much complexity in the flavours at first but it is a very classy smoke. Beside the abundant creaminess there is a tangy flavour at the bottom that is towards herbaceous or grain flavour. I decided to start with a San Pellegrino to pair it. This is off to a very nice start.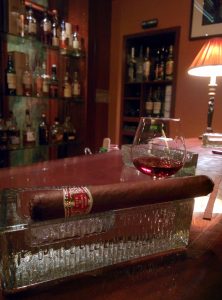 2nd:
The lush and creamy smoke keeps on giving. It moves towards a sweeter spectrum of flavours. I would say it tastes a bit like cake and even panettone cake. This Hoyo de Monterrey Maravilla fits perfectly with the holiday season, it tastes festive. I decided to add to the sweetness with rum. I started with the El Dorado 12 years and it works perfectly. The acidity from it brings out the tangy flavors I had in the first third. The body is slowly increasing to medium. Again, this is a classy smoke. I am smoking one with a friend and he gets the same massive amount of creaminess.
3rd
As the body power continues to slowly increase in a very pleasant crescendo, the flavors are moving towards the woody side of flavors. There is still the distinctive cream and sweet notes but they are evolving in something more complex. The finish is becoming longer and with more depth. The smoke from the cigar itself looks thin and doesn't smell particularity strong but it is still thick and lush in mouth. The subtle changes keep me focused on it and I love that. I moved to El Dorado 15 years with the end of it but it didn't mesh as well as with the 12 years. I should have stayed with the 12 years.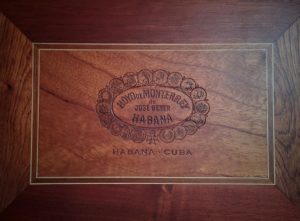 Final thoughts:
As I said, this is a very classy cigar. It has to be one of the creamiest cigars I have ever enjoyed. They are not overly complex or they don't show a wide range of flavors but they are very good. I am very happy to have had the chance to write this Hoyo de Monterrey Maravilla review. These will probably get better with time but they are smoking beautifully right now. If you are one of the lucky owners of one of the antique humidor, crack it open, enjoy one once in a while and see how they age.
9.25/10