Romeo y Julieta Capuletos EL 2016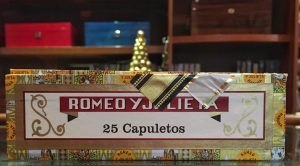 The info
Today we are taking a look at the new Romeo y Julieta Capuletos. These are part of the 2016 limited editions from Habanos S.A. that were launch in Verona, Italy (rightfully so) last September. The Capuletos is  pretty large cigar being a Sobresalientes  (53 ring x 153 length) and pays homage to the Shakespearian root of the brand.
Pre:
The example I smoked today has one of those really dark and oily capas on. They look wet. They smell like new tobacco even though they have 2 years old wrappers. The draw is perfect and the construction follows. Let's start!
Review
1st:
This starts out really smoothly, much more than I anticipated. I can taste notes of wood and some sweetness there. The sweet notes can be described as spicy sweet like you would find in a spice cake or a Christmas fruit cake. Very interesting. It doesn<t taste as young as when I tasted the draw at cold. That's good.
2nd
The power picked up nicely in the second third and at the same time, brought up some complexity in the Romeo y Julieta Capuletos. The spices from before have gone darker. I can find licorice and some anise that are beng well balanced with the creaminess of the wood flavors. A very interesting mix here, I wasn't expecting this at all.
3rd
Whoa! Power boost in the last 3rd. This is a bit too rough for me right now. Here is where it shows its youth but at the same time it is where it is showing its aging possibility. You can taste that there are flavors but they are impossible to pick The flavors are muted. I bet time will unlock the 3rd third secrets in a few years.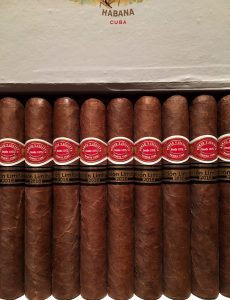 Verdict
All in all a pretty good edition limitada for Romeo y Julieta and that's not coming from a Romeo y Julieta fan.
8/10